Oklahoma organization wins multiple national awards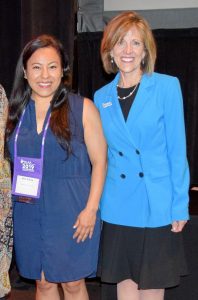 The Central Oklahoma Chapter of the Hearing Loss Association of America (HLAA) brings home three national awards from the 40th Anniversary Celebration and Awards Gala held in Rochester, New York on June 22, 2019.
The chapter is honored to receive the 2019 HLAA Founder's Day Award, awarded to the chapter for excellence in support, advocacy, and spreading hearing loss awareness.
Ana Covey, Chair of the Central OK Chapter and member of the chapter's Hearing Access Committee received the "Get in the Hearing Loop" award, which recognizes excellence in communicating the benefits of loop technology to a broad audience and success in getting loop technology accepted and installed in local communities. The metro is quickly becoming a hearing-friendly city with hearing loops in the 2,500 seat OKC Civic Center Music Hall, The Rodeo Cinema in the Stockyards district, the city council chambers of The Village and Nichols Hills, and St. Eugene Catholic Church.
Board Member Sylvia Frank was awarded the "Spirit of the HLAA" award for giving unceasingly and acting selflessly to help others with hearing loss in the name of HLAA. Each Friday for the past 12 years you will find her demonstrating and loaning assistive devices to hard of hearing visitors of the chapter's outreach project, the Faye Donaldson Hearing Helpers Demonstration Room located at the INTEGRIS Third Age Life office at 5300 N. Independence, Ste. 210.
Our chapter's mission is to open the world of communication to people with hearing loss by providing information, education, support and advocacy," said Covey. "Our chapter is growing stronger and we look forward to helping the OKC Metro to become even more hearing friendly.
The Central OK HLAA has served Oklahoma's hearing loss population for 27 years and has free monthly meetings are open to the public and are held at Lakeside UMC at 2925 NW 66th Street. Meetings are captioned and provide a safe, friendly place for those living with hearing loss including family and friends.